A view to my Disney castle
Ok, let me introduce this beautiful place
Here in Germany we called it "Schloss Neuschwanstein" or Neuschwanstein Castle. This Castle was build by King Ludwig II from the ruin from old castle of Hohenschwangau . This Castle embodies both the contemporaneous architectural fashion known as castle romanticism
Long time a go before i moved to Germany, i ever read about this castle in one of Indonesian Magazine and i was directly in love
But since we lived in north of Germany, is not so easy to get to the south side where this castle is. My husband know this is my dream of the disney castle, where indeed this castle inspired the Disneyland's Sleeping Beauty Castle.
So, last year exactly on my birthday, we getting 4 days Bayern touring through several cities in Bayern Bundesland. As my birthday gift that i already dreamed for years! We start our touring with German DB Bahn from Hannover to München, then we picked our rent car that we rent it online trough Auto Europe for a very friendly price. When i wasn't wrong we only pay for 56€ for 3 days
Interested with our route? I love to share our 4 days trip route incase you also want to try it
1st. Day – München to Ammersee then to Kloster Andechs and end it with take night rest at Thaining, a small, clean and nice budget hotel named Zum Alten Wirt.
2nd. Day – we start from Thaining to Schongau then Forggensee to Neuschwanstein Castle in Füssen then end the tour again in a Ferienhaus named Haus am Südhang in Saulgrub. #
3rd. Day – from Saulgrub we start to Oberammergau then drive to the National Park Karwendel along the Isar river which also called Deutsche Alpenstraße, through this street we have to pay for 4€, is kindda highway without high speed
A very romantic way, where have to cross the border to Austria then ended to Tegernsee before heading back to München.
4th. Day – return the car and spend whole day in Englisch Park before go back to Hannover again with Train.
The whole journey filled with amazing scenery and unforgetable view, our eyes was been spoiled with a great view and toped up with a great weather. Most the days is with blue skies and sunshine except the second day. However is also still a nice day. Is an unforgetable trip for me, getting my dreams come true and learn more people at the same time.
The best of all is we got the chance to have the view of the castle from above. This picture is only can be took from Mariane Bridge, this brigde was closed for more than 1 year because of renovation. We already thought that we will not able to see this amazing peace completely from above but fortune is on our side because the brigde just reopened 4 days before our arrival. Is great isn't?
The bad side is we are unable to get a ticket to visit the inside of the castle since is overbooked by tourist from Asia and trully i don't have any interest to wait for hours just to get inside it. It was nearly 1 KM long queue infront of the castle for the people that want to go inside.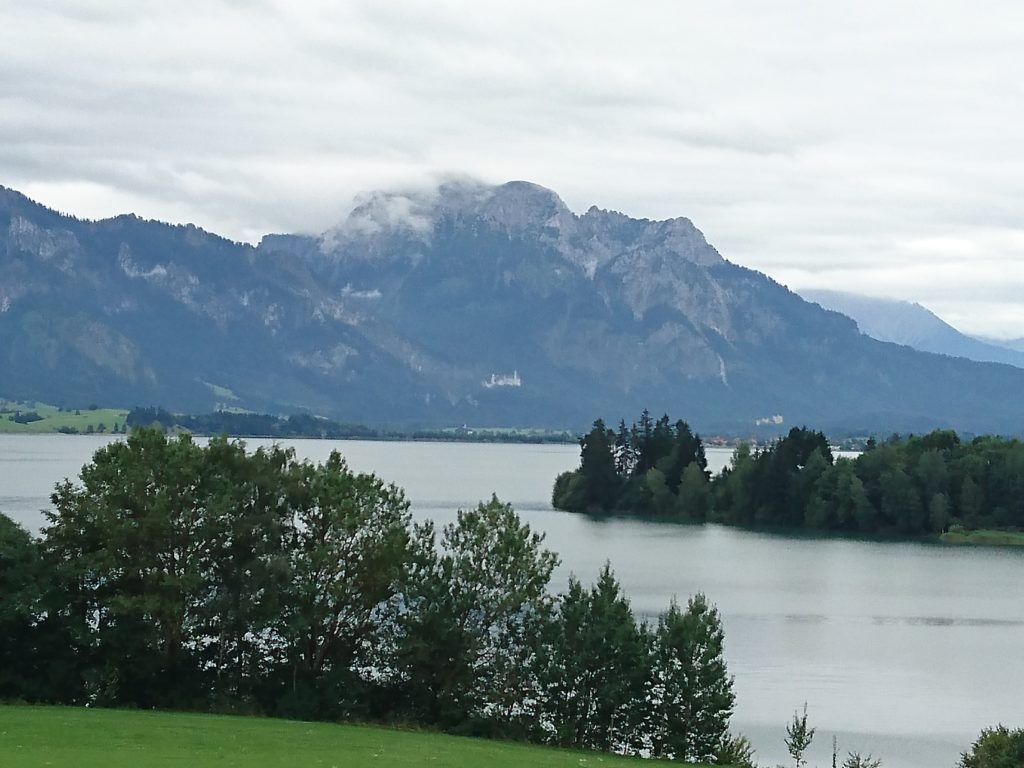 Neuschwanstein Castle View from Forggensee
One day will love to repeat this trip once again